School Houses
Matt Hampson - is an England Rugby player who was left paralysed from the neck down following a training accident. Through his foundation he has raised millions to help with the rehabilitation of others who have experienced similar injuries.
Marcus Rashford - is an England footballer and social justice campaigner on child food poverty. His campaigning forced the government to provide food vouchers during school holidays for those receiving free school meals, having experienced food poverty as a child.
Greta Thunberg - is a Swedish environmental activist who is known for challenging world leaders to take immediate action for climate change mitigation. She first started her 'School Strike for Climate' aged 15.
Malala Yousafzhai - is a Pakistani activist for female education and a Nobel Peace Prize laureate. She survived an attack on her life from the Taliban and today campaigns for human rights. She recently graduated from Oxford University.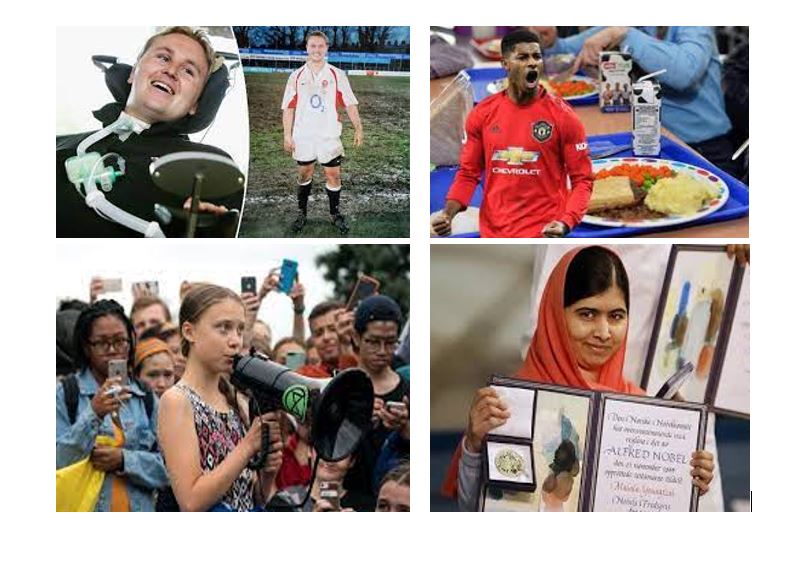 Our school Houses are named after inspirational people from diverse backgrounds. Those who have 'made a difference' locally, nationally and globally and who were good role models for all of us – not just children.
We spent last half-term thinking and deciding – settling on four fantastic people who could inspire our pupils to make a difference to the world we live in, whether that's by saying a kind word, raising money or making a stand against something that is wrong.
The children have now been placed into their Houses, and they'll meet once a half-term to do an activity together. These activities will allow them to earn house points throughout the year. Each child has a bookmark on which they collect their house points and once they get 50 they'll receive a certificate in recognition for all their hard work.
At the end of the year, all the children will compete at Sports Day for their House, and the overall winning House will be announced.