Swimming Success for Mr Rose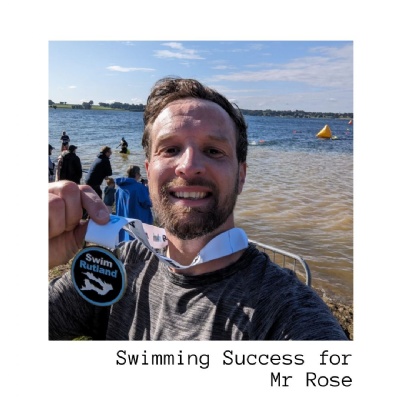 In case you missed on our social channels over the weekend, Mr Rose successfully swan his open water challenge – and raised a phenomenal £1,159 for the GBA PTA.
You may have seen, due to extreme weather conditions, Mr Rose's original swim challenge across the Solent had to be cancelled for weather and safety reasons. Although deeply disappointed he was not deterred and found a new, equally (if not more) challenging, open water swim – 4km across Rutland Water.
Mr Rose gave us the following update, "Challenge complete! Despite a few battles with cramp and a bit of choppy water along the way, I completed the swim in just under an hour and a half. It was a lovely morning at Rutland Water and the event was brilliantly run, I can fully recommend it."
"Thank you for all of your support over the last couple of months, knowing that everyone was giving so generously both in encouragement and cash to the PTA really made a difference to my motivation."
"The money will all go towards opportunities for the children of Great Bowden Academy. Thanks again to you all."
Well done Mr Rose. A fantastic achievement, we're all super proud of you.
Please enter some content for your news story here.