Sensory Garden Volunteer Morning: Saturday 18th March between 9am-2pm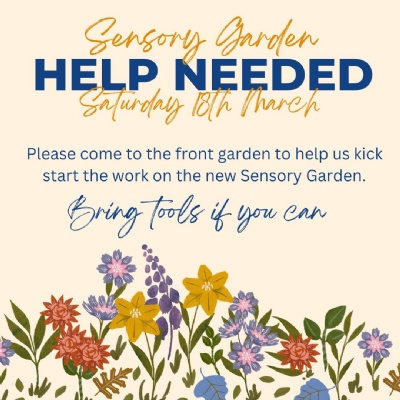 You may have seen we shared with you last week our Sensory Garden plan, designed by Langrick, of the Gardening Companion. Her background in teaching before retraining as a gardener and garden designer made her the idea fit for understanding our requirements and designing the perfect garden for our needs.
And the wait is over – we are starting work on the garden this month. But we need your help!
If you can spare some time on Saturday 18th March between 9am-2pm we would love your help. Our aim is to clear the area ready for works to begin. Many hands make light work so the more volunteers we can get the better. These gardening days have always been lots of fun, with plenty of tea, biscuits, and teamwork. Please pop the date in your diary if you can, we'd love to have you involved for this exciting new project. Children are very welcome to come along and lend a hand.
If you can make to help us on our gardening morning, please bring any of the following gardening items you have and dress for the garden (wellies, gardening gloves etc). :
Rakes / Loppers / Secateurs
Spades/ Forks
Wheelbarrows
Hammers / nails
We have also had a great response to our donation requests. If you have any of the following that you can spare to donate, please email the office or bring on the gardening morning:
Patio slabs for crazy paving
Bricks or paving bricks (for some of edging and paths, ideally a job)
2-3 builders bag for collecting rubbish
Pallets, approx. 12
Railway sleepers or similar
Thanks as always for your support.